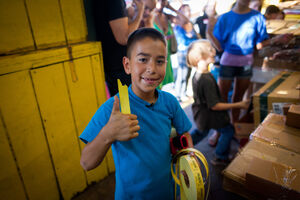 A wiki for the wonder short film, Caine's Arcade

Check out the media coverage of Caine's Arcade!
Please help translate the film to different languages!
Edit
The Film: www.CainesArcade.com
Film Language Translation List (as of 4/17/12)
Step 1. Transcribe the film to English and post here. (Complete- click the link for a complete English language transcription of the film.)
Step 2. Start a new page for your language translation.
Step 3. Save your translation page with your updates
Step 4. Spell check translation.
Step 5. The Caine's Arcade Team will take the #TeamCaine Translations, and create + upload official versions of the film in multiple languages, so that kids around the world can be inspired by Caine Monroy.
About the film:
Edit
9 year-old Caine built an elaborate arcade out of cardboard boxes (located in his dad's used auto parts store). Unfortunately, Caine had no customers. Then one day, the internet organized a surprise to make his day.
A DIY Cardboard Arcade made by a 9-year-old boy in his dad's used auto parts store.

"Caine's Arcade" short film (coming soon) Directed by Nirvan: www.twitter.com/nirvan Produced by Interconnected: www.facebook.com/interconnected.is
Community content is available under
CC-BY-SA
unless otherwise noted.